How the Airship Works


Informations :
Level requis : 60
Récompense(s) de la quête : 200.000 base expérience et 10.000 job expérience
Exp Renewal : 20,000 base exp ; 1,000 job exp
Objet(s) nécessaire(s) : 2 Will of Darkness, 2 Prickly Fruit
Quête pré-requise : Aucune
Débloque une autre quête : Heart Fragment Quest


1. Commencez par vous rendre dans l'airship international, qui relie Yuno, Izlude et Rachel.
2. Rendez vous dans la cabine du pont (montez les escaliers) et parlez à Tarlock. Dites lui "How The Airship Fly?" et dites-lui que vous voulez vraiment savoir. Il vous demandera alors de remettre une lettre à son frère Ferlock.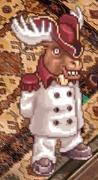 3. Prenez maintenant l'airship Schwartzvalt, qui relie les différentes villes de la République, et allez parler à Ferlock qui se trouve dans la cabine du pont. Rapportez-lui les 2 Will of Darkness & les 2 Prickly Fruit, que vous pouvez obtenir à Rachel Dungeon. Ferlock vous donnera alors une lettre à remettre à Tarlock.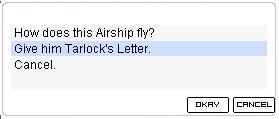 4. Reparlez à Tarlock plusieurs fois, le temps qu'il lise la lettre. Il vous révèlera finalement le secret de l'Airship et vous recevrez l'expérience.


Guide réalisé par Feufo