Cat Hand New World Access


Informations :
Level requis : 70
Récompense(s) de la quête : accès à Midgard Expedition Camp
Objet(s) nécessaire(s) : 50.000 zeny
Quête pré-requise : -
Débloque une autre quête : Finding a Fairy, Ring of Wise King et les suivantes


NB : Cette quête vous donne l'accès au Nouveau Monde, ainsi qu'à certaines quêtes, sans avoir à passer par Onward to the New World. En revanche, aucun gain d'expérience à la clé.
Notez que vous pouvez retourner voir le premier NPC chaque fois que vous voudrez retourner à l'Expedition Camp, mais il ne vous fera payer 50k zeny que la première fois.
Vous pourrez toujours faire Onward to the New World par la suite, même après avoir fait celle-ci.
NB2 : La quête existe bien sur les serveurs Ragnarok Online Europe, mais ne donne cependant PAS accès aux quêtes suivantes. La faire ne présente donc aucun intérêt sur l'officiel européen.


1. Rendez-vous aux Paradise Group Headquarters grâce à l'un des NPC présent dans les grandes villes.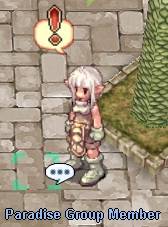 2. A droite de l'entrée, vous trouverez Cat Hand Personnel. Parlez-lui et acceptez de payer 50000 zeny.

3. Il vous envoie directement à la Dimensional Gorge. Faites quelques pas vers la droite de la map afin de trouver un petit chat.


4. Après lui avoir parlé, il vous envoie directement à l'intérieur du Dimensional Rift, au bord d'un pillier, où se trouve votre dernier contact.


5. Parlez-lui, et il vous téléportera alors enfin à l'Expedition Camp.


Guide réalisé par Firi