Finding a Fairy


Informations :
Level requis : 70
Récompense(s) de la quête (rate 1): 1,400,000 base expérience
Exp Renewal : 180,000 base exp
Objet(s) nécessaire(s) : -
Quête pré-requise : Onward to the New World ou Cat Hand New World Access
Débloque une autre quête : Ring of the Wise King


1. Rendez-vous spl_fild02 - la map à droite de Splendide. Rendez-vous en (34,223), tout près du warp en fait, pour trouver une petite fée. Parlez-lui et retournez à Mid Camp. Note : Attention aux monstres qui sont plutôt coriaces ici. Evitez donc de trainer quand vous parlez à la fée, il y a fort à parier que vous aurez des mobs à vos basques...


2. Retournez à Mid Camp et parlez à Camp Guard Captain (212,237). Il vous donnera la moitié de l'expérience.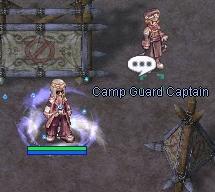 3. Direction maintenant man_fild03, au sud de la map des Nepenthes de Manuk. Allez voir, Tree Giant (236, 105) et parlez lui de la même façon que la fée. Il se situe tout en bas de la map. Attention, une fois encore les mobs sont dangereux, et en plus un gentil MVP s'y ballade (Hardrock Mammoth).


4. Retournez voir Camp Guard Captain à MidCamp qui vous donnera le reste de l'expérience.


Guide réalisé par Feufo