Helping Lope (Ropewa) and Euridi


Informations :
Level requis : 100
Exp (Renewal) : 1,000,000 base exp et 2,000,000 job exp
Récompense de la quête : 10 Mora Coins
Objet(s) nécessaire(s) : 30 Ropewa Clue (Lope's Clue)
Quêtes pré-requises : Wandering Guardian
Débloque une autre quête : Knights of Neighborhood - Knights Head


1. Allez voir Euridi, à Mora, en (117, 66), et dites-lui que vous n'avez pas vu Ropewa.


2. A l'auberge de Mora, au nord-ouest, allez voir Pitt (65, 145), allongé sur un lit.

3. Retournez ensuite parler à Euridi, qui vous demandera de trouver 30 Ropewa (ou Lope's) Clue. Vous pourrez les récupérer sur les Parus, au Misty Forest Labyrinth.
4. Une fois en leur possession, allez voir Pitt et montrez-les-lui, mais ne lui en donnez aucune.
5. Allez parler à Euridi.
6. Revenez voir Pitt qui vous donnera le Ropewa Ring (Ring of Lope).
7. Parlez ensuite à Euridi, puis à Euridi's Friend juste à côté de cette première.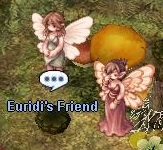 8. Allez voir Ropewa et marchez près de lui, au Bifrost Field 01 (131, 338). Choisissez "Talk to him".
9. Parlez-lui à nouveau.
10. Retournez voir Euridi et dites-lui que Ropewa est mort.
11. Finalement, parlez à Euridi's Friend, qui vous donnera 10 Mora Coins et de l'expérience.


Guide réalisé par Firi