Heart Fragment Quest


Informations :
Level requis : 60
Récompense(s) de la quête (rate 1): 700,000 base exp, 400,000 job exp
Exp Renewal : 70,000 base exp ; 40,000 job exp
Objet(s) nécessaire(s) : -
Quête pré-requise : How The Airship Work Quest
Débloque une autre quête : -


1. Sur l'Airship de Yuno, parlez à Hallen, qui est sur le pont. Il vous demandera d'apporter une lettre à Kaci, qui se trouve aux tables de jeux de l'Airship.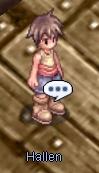 2. Prenez donc le warp situé sur le pont pour arriver dans les différentes salles de l'airship. Tout en bas se trouvent les tables de jeux, et vous trouverez Kaci auprès de l'une d'elle. Donnez-lui la lettre puis retournez voir Hallen.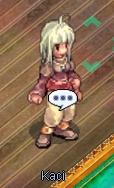 3. Hallen vous fera part de sa curiosité vis à vis du fonctionnement de l'Airship. A ce moment vous devez avoir fait la quête How The Airship Work pour continuer.
Dans ce cas, Hallen vous donnera une Red Potion pour vous remercier de lui avoir expliqué le fonctionnement de l'airship.
Reparlez-lui, il vous parlera de Heart of Ymir qu'il a entendu prononcer par un homme ivre. Allez voir Kaci pour obtenir plus d'informations à ce propos.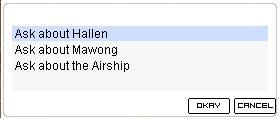 4. Questionnez Kaci à propos de l'homme ivre, qui vous dira qu'il travaille au laboratoire d'Einbroch... direction Einbroch !.
5. Une fois dans la ville, descendez au sud-ouest pour trouver le laboratoire, gardé par plusieurs hommes. Au moment de passer le warp, vous devrez rentrer un code en moins de 60secondes. Voici la liste des codes que vous pouvez avoir à recopier (vive le copier-coller !) - notez que parfois cela échouera, recommencez ! :
You give me no choice. I guess it's time for me to reveal my secret...
fReeDoM eCstAcy JoUrnaLiSm ArMpIt DisCoverY hEaDaChE MoonbeAmS jUsTiCE
Coboman no chikara-yumei na chikara-daiookii na chikara da ze! COBO ON
hfjdkeldjsieldjshfjdjeiskdlefvbd
...silence. quiet benevolence...soul mate...wonder. enigma...cloud.
opeN,Open!op3n.openOpen0p3nOpEn0pen`open'0Pen open?open!111OPENSESAME
By the power of p-po-poi-po-poi-poin-poing GOD-POING. I NEVER LOSE!
uNflAPPaBLe LoVaBLe SeCreTs AnD BoWLiNg aGaINST tHe KarMA of YoUtH
I'm the King of All Weirdos! Now you know of my true power. Obey~!
belief love luck grimace sweat rush folktale rodimus optimus bumblebee
LiGhTsPeEd RiGhT SPEed LeFT TURn RiGhT BuRn OriGInAL GaNgSteR SmACk
burapaphurarlandreamduranbatuhiwooikabamturubamdingding


6. Arrivé dans le labo, faites le tour de la machine centrale (une fenêtre s'ouvrira à un moment donné), puis rendez-vous vers une machine contre le mur, qui vous demandera de trouver un code à 3 chiffres en moins de 5 essais.
Pour le trouver vous aurez deux indices : à chaque essai, la machine vous dira le nombre de chiffres bien placés et le nombre de chiffres corrects mais mal placés. A vous ensuite, grâce à vos 5 essais, de trouver la bonne combinaison... bon courage !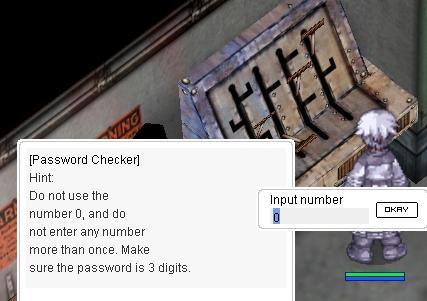 7. Une fois la combinaison trouvée, vous aurez accès aux informations que vous recherchez. Mais Ferlock apparaît alors et vous ramène dans l'Airship. Discutez avec lui, faites lui part de vos inquiétudes à propos du Heart of Ymir et vous recevrez votre expérience.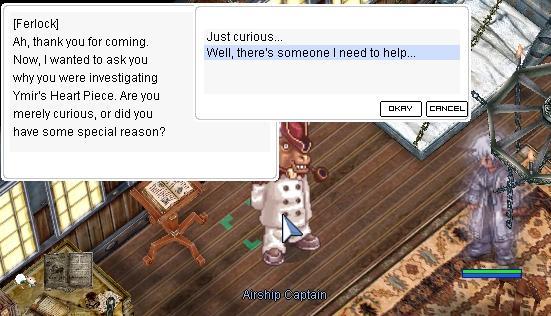 Guide réalisé par Feufo