Umbala Language


Informations :
Level requis : -
Récompense(s) de la quête : Compréhension des NPC d'Umbala
Objet(s) nécessaire(s) : Un masque, 10 oil paper, 5 slick paper, 1 squid ink, 1 feather of bird
Quête pré-requise : -
Débloque une autre quête : The Sign


1) Mettez un masque (genre un Mr. Smile, pas dur à faire) et allez voir le chef d'Umbala, situé dans une maison à cet emplacement :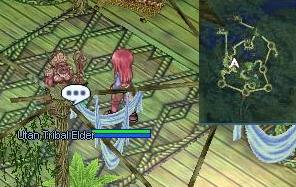 2) Parlez lui et il vous demandera de ramener 10 Oil Paper, 5 Slick Paper, 1 Squid Ink, 1 Feather of Bird.
3) Ramenez lui et vous serez en mesure de comprendre tout ce que disent les NPC d'Umbala !


Guide réalisé par Feufo